- Our Products -
PRODUCT
LIST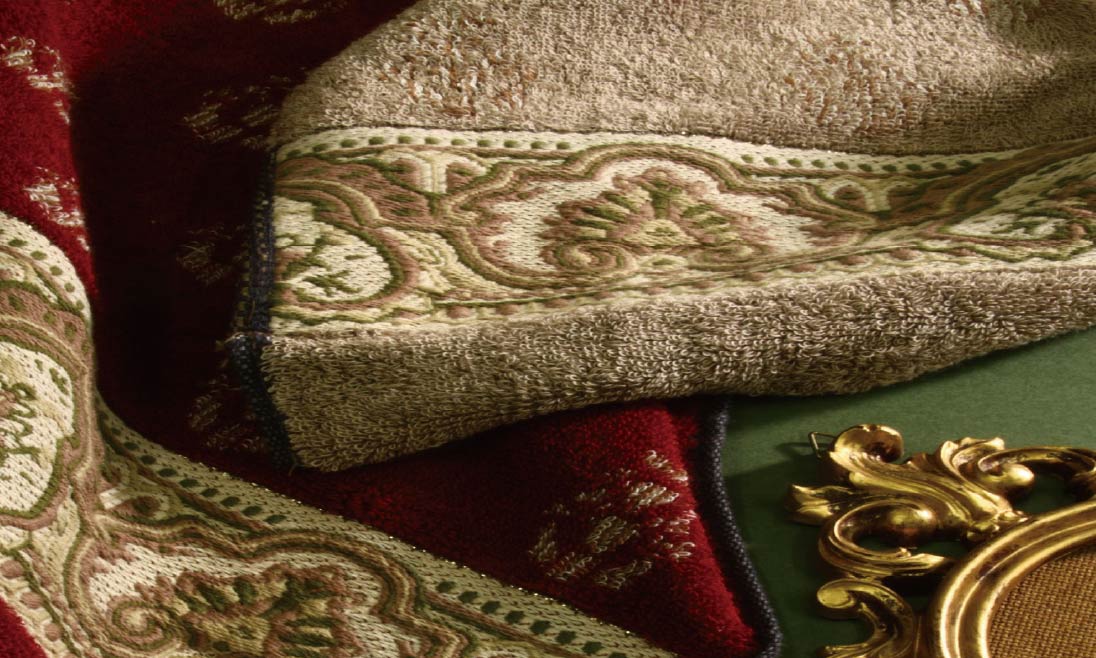 NEXT STAGE
New Developments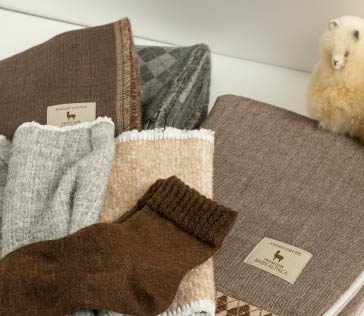 PREMIUM BABY
ALPACA
These warm and fluffy goods are woven using baby Peruvian alpaca yarn, a high-grade animal fiber. The Alpaca series has a rich variety of items, including stoles, belly wraps, and socks. You can feel the fluffy texture and warmth of these items.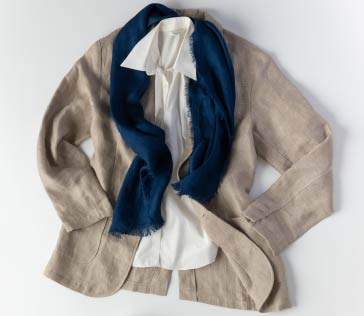 100% Linen
Linen is a material with excellent divergence and air permeability, which makes it suited to Japan's humid climate. Jogan's linen gauze has achieved an unmatched supple feel through the weaving technology that we have accumulated over many years. You can enjoy its natural texture with all five senses.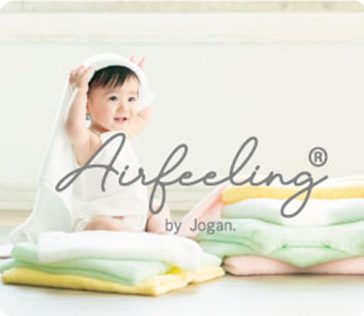 Air Feeling
towels that fly through the sky
These choice towels are light as air and soft as a cloud, as if they could fly in the sky. Not only are they lightweight, soft, and resistant to shedding, but they also have excellent absorbency and quick-drying properties. We invite you to experience these superb towels packed with all the best towel features.
FUNCTION
Functional towels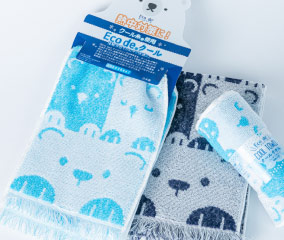 ECO de Cool
Special cool yarn makes these towels cool to the touch. Useful for outdoor sports, heat stroke prevention, and as an air-conditioning aid. They also feel cool without the need to be moistened with water.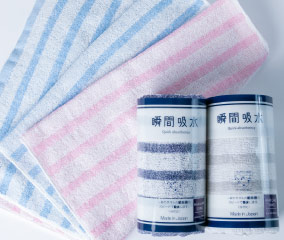 Instant water absorption
Absorbs moisture 8x faster than ordinary towels. These towels have a special structure that efficiently absorbs moisture and instantaneously discharges and evaporates it from the towel! These superior products combine the great cotton feel with outstanding absorbency. Enjoy a refreshed and dry feeling after playing sports or after a hot bath.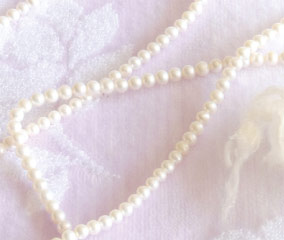 Pearl Blessing
Since ancient times, pearls have been valued all over the world, both for jewelry and for medicinal use. There is a famous legend that Cleopatra used them to maintain her youth and good looks. These towel is made from fibers kneaded with 0.1-micron grounded pearl powder, and feature excellent antibacterial properties for long-term clean use.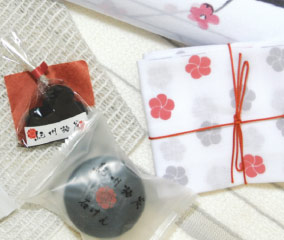 Kishu Plum Charcoal
These towels are made of fibers woven with crushed Kishu Nanko plum seeds that have been turned into charcoal through a unique manufacturing process. Plum charcoal has excellent deodorizing, humidity control, water purifying effects, and helps relaxation through the release of negative ions, making it an ideal gift for housewarming parties.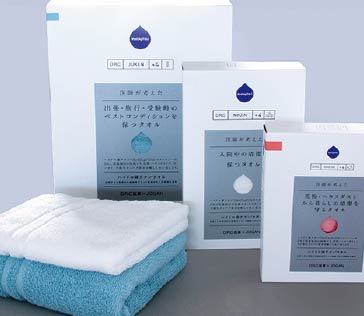 Hydro Silver Titanium Towel
These antibacterial pollen- and dust-resistant towels were produced in collaboration with a pharmaceutical company. They are treated with hydro silver titanium, which breaks down pollen and house dust. Jogan has teamed up with a medical institution that specializes in infectious and allergic disease research to come up with a towel that is highly functional yet lightweight, highly absorbent, and very easy to use.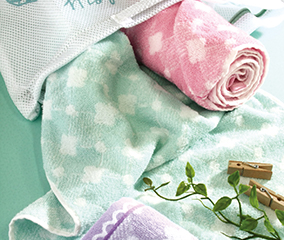 A towel series conceived
by beauty salon staff
These towels were developed based on usage scenarios from a woman's point of view. Materials and weaving methods vary according to use. Silk protein treatment applied to the towels makes them gentle to the skin.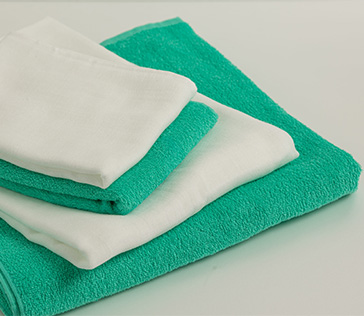 Mint Towel
Kitami Hakka Trading's original natural Hakka oil fragrance trapped in microcapsules is absorbed into these towels. When lightly rubbed, the unique fresh hakka aroma spreads out gently.
GAUZE
High-grade gauze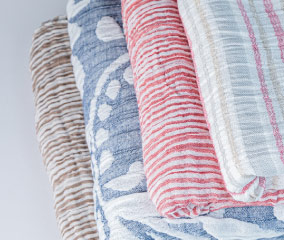 JOGAN GAUZE
A comfortable air-clad fluffy gauze blanket. This gauze is easy to keep clean because when washed, lather rinses off easily and it dries quickly. The airy layers of the layered weave retain heat and feel soft and fluffy. This soft, clean gauze blanket invites a good night's sleep.
elephant infant
A series featuring animal motifs created by multiple weaving technologies. With a fine surface and a thickly woven interior, the soft and light gauze feels good against the skin.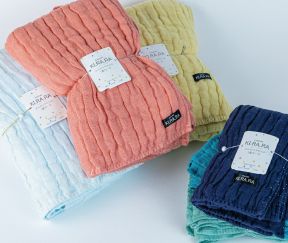 sweet KIRARA
This product's voluminosity and usability will override any preconceived notions you have about conventional gauze. The surface layer is cotton while the interior is polyester, a combination that marries excellent usability with convenience. No matter how many times it is washed, this superior product maintains its soft texture.
BASIC
良質な定番タオル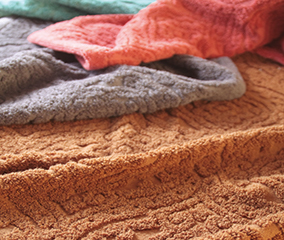 ANGEL SPIN
A new type of towel created from carefully selected cotton that utilizes a special processing technique. As there is space within the threads, the material feels especially fluffy and voluminous. With excellent water absorption and quick drying capabilities, it can be used comfortably at any time.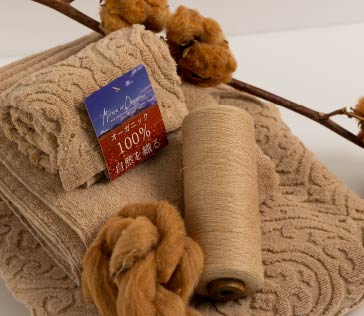 MOTHER OF ORGANIC
These high quality gentle-to-the-touch towels are made of 100% organic cotton grown with no chemical fertilizers, and full of nature's benefits. We are proud of this product, which was completed by putting together Jogan's genuine weaving techniques, forged over 75 years in business. These ethical products are easy on the earth as well as people.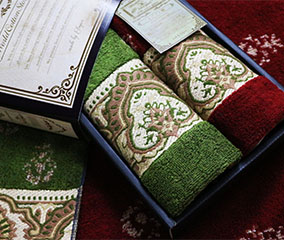 WORLD COTTON
These are Egyptian cotton towels of the finest quality made from Finx cotton, the highest grade of cotton cultivated in the Nile River basin in Egypt. With long fibers and a silky luster, these towels promise first-class comfort and blissful satisfaction.
HOT
注目商品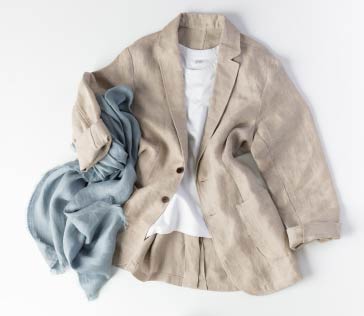 JOGAN FASHION
This is the fashion wear conceived by a towel manufacturer that specializes in comfort. In pursuit of comfort for the wearer's body and soul, we have created products such as naturally textured 100% linen jackets and relaxing loungewear that achieves the ultimate in softness.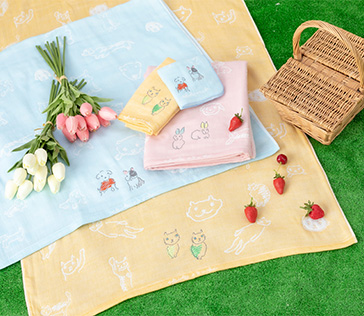 WONDERFUL WORLD
BY OBUCHI
This is a collaboration with designer Akiko Obuchi, eldest daughter of former Prime Minister Keizo Obuchi. We hope you will enjoy these new towels that combine Jogan technology with unique designs.